D2X Project
Note: d2x has not been updated in a very long time. Please check out one of the following d2x-derived projects:
D2X-Rebirth - Many improvements and enhancements, while maintaining the original feel of Descent 2. Basically the spiritual successor to this project.
D2X-XL - Also has many improvements and enhancements, particularly in the area of new effects and gameplay features.
Descent 2 for DOS, Windows, and Unix (Linux, Solaris, Mac OS X, etc).
d2x can also run on handhelds like the Pocket PC and the Nokia internet tablets.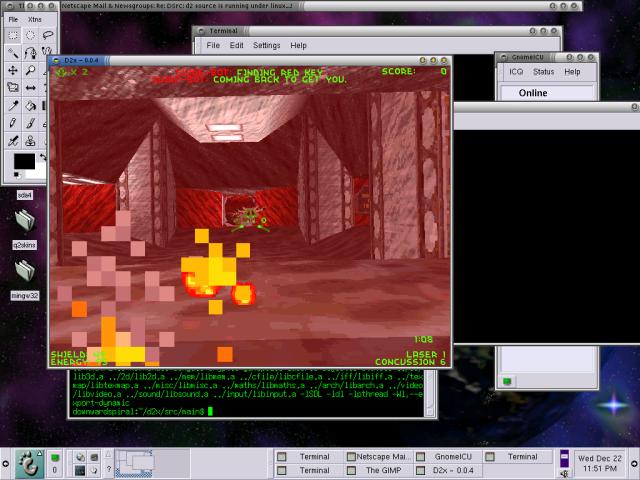 Binaries
This project does not often have up-to-date binaries available, I always recommend compiling from SVN to get the latest features and bug-fixes.
What we do have is available here.
Source
SVN
To access the source code via SVN:

svn co svn://svn.icculus.org/d2x/trunk d2x

You can browse the source code online, with ViewVC

If you are a past contributor to d1x or d2x, your old cvs login does not tranfer over. Send me an email and I can give you access to svn.

You can also browse the cvs history of d1x online, with cvs2html. It is generated once a month or so.
Shareware Data Files
Game Patches
Miscellaneous Stuff
Other Sites Relating to D2X
Help Improve D2X!
If you fix a bug or add a feature, send it in a patch! Either attach it to the relevant bugzilla bug, or send it to the mailing list.
Questions about d2x can be best answered on the descent-source mailing list. see the D1X Developer Resources page for the archives and subscription information. org.
---
d2x is maintained by
Bradley Bell
and hosted by