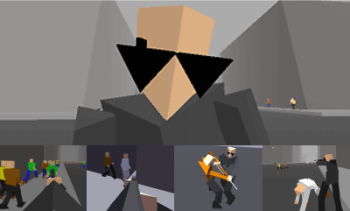 David Rosen created Black Shades for the uDevGame 2002 contest on
idevgames
. His original
Readme
(His Readme has proper game play instructions). And the
Postmortem
. Mr. Rosen's site for the original is
here
.
Black Shades for Linux is currently only available via
SVN
:
svn co svn://svn.icculus.org/blackshades/trunk/ blackshades
A Gentoo ebuild is available which pulls the source from SVN.
Read our amusingly named (to fix the case sensitivity problem) readme,
IF_THIS_IS_A_README_YOU_HAVE_WON
You will need
OpenAL
, and
SDL
. Send all diffs to
zjs@zacharyjackslater.com
.